The Water Park
The water park is modern designed with buildings in top class, and it has got a beautiful environment with flower arrangements, sun chairs and parasols. The parks top class activates and the excellent service offers something for people of all ages, but pets are not allowed at The Water Park.
Slides and pools
As I said, The Water Park has got a lot to offer. Both water slides and pools, food and sun bathing. And when it comes to attractions, there are 20 different to choose from. Some of them are; Twister Slide, whom with its white and blue slides twist it self to a splice of turns and rakes, Rafting Slide, where you together with a rubber ring throw yourself out into a wide slide, Head First Mat Race, where you go on a madras and aim for first place, Sting Ray, in which you go back and forth in a giant ramp, and Wet Bubble, who throes you in the pool if you don't control your bouncing body. A few others are Black Hole, which takes you, upon a ring, down into a dark tunnel, Lazy River where you calmly can float around with your friends, Wave Pool, which creates delightful waves for you to enjoy, Tipping Bucket which will give you a cold shower,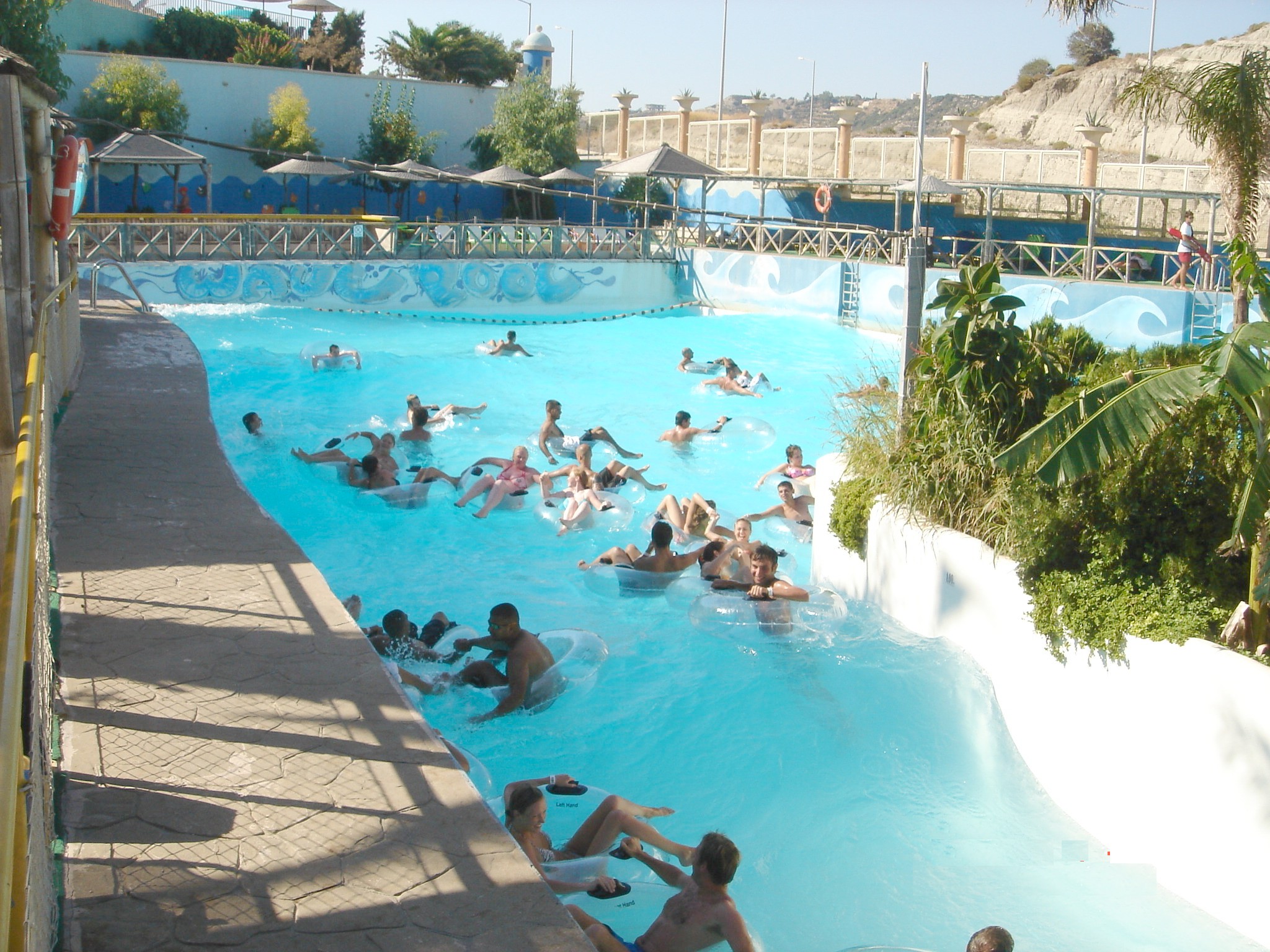 Pirates ship were the children can become pirates for a moment and Lamikace, whom with its three white slides in different shapes gives you a speed to fear, or love.
Food
If you become hungry after all the quick turns and lazy moment in the sun, The Water Park offers snacks and food in different shapes, and large areas with nice environments for you, your family, and your friends to eat in. Two fast food restaurants is placed on the water park area, Corsaro Snack and Pacific Snack. They offer different food that'll get your stomach to stop growling. In the fast food restaurants you'll find nice hamburgers and sausages, filled baguettes and sandwiches, and all kinds of thing to put in and on them. Salads, chicken wings and nuggets are also on the menu, as are pizza slices. If you only feel for a little snack, there are five different snack bars on the area. They offer, among other things, ice cold drinks, juices, snacks, bear and ice cream.
Lifeguards
When it comes to security the park is well equipped with 35 trained lifeguards who always are out on the area to make sure as few accidents as possible occur. Life vests for children are also available for borrowing, and of course, it free. Nurses are also stationed all over the water park..
Fee
On Rhodes you pay with Euro, just like in the rest of Greece, and the entrance for the water park is divided in to three categories. "Toddlers", children the ages of 0-3 years, has got frees entrance to the water park while children between the ages of 3-12 has to pay to get access to all the fun. "People", humans over 12 years, all pay to get in.
Open hours
The Water Park's open hours are different each year, but this year (2008), The Water Park is open between 9.30 am and 6 pm during May, September and October. During June, July and August, the water park is open between 9.30 am and 7 pm
Placed
You'll find The Water Park on the south side of Rhodes, near Faliraki. To get there shouldn't be a problem since the park has got their own busses which resign from the town of Rhodes daily, and transport via boat from Faliraki and the town of Rhodes also is available.