A bit about Rhodes
This holiday paradise belongs to Greece and is a 80 kilometres long and 38 kilometres wide island with about 100.000 inhabitants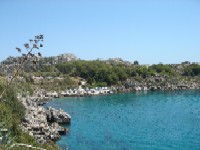 who lives in a area of 1400 square kilometres. It is also the biggest island in the island group Dodecanese, which is located in the Aegean Sea right next to the continent of Turkey. In this little island there is room for beautiful beaches, created by nature, inviting you to take a swim, and a terrain in the central part of the island witch offers green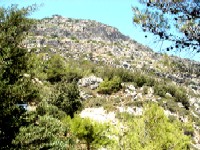 forests and plantations. Here you'll find cosy little villages, olive groves and citrus- and orange farms. Here you'll find mountains and harbours.
Since Rhodes holds so much, there are a lot to see, and the capital it self is a beautiful city filled to the edge with history and culture. Here you can walk around in the soft atmosphere and find out where the twisted streets takes you. Maybe you find your self ending up in the harbour, at the foot of the famous columns on witch it is being said that the Colossus of Rhodes stood once upon a time. Or maybe you will end up in the older part of the town where you'll find a castle or two. Or maybe, you will at the end of your walk be sitting in a nice little restaurant, next to a little souvenir shop where leather belts jostle with copies of antic art.
Lindos
Lindos, the white city, is also a well visited place. Here you'll find narrow streets being lined by white houses built of stones with flowers welling down the walls, and the calm Greek atmosphere feels evident. A lot of people come to Lindos to experience the indescribable ocean view which is being offered at the ruins of Acropolis, while others goes to the beach of Pallas where the water is shallow for a part in the beginning.
West coast
If you instead want to experience antic history, the little picturesque villages on the west coast is something for you. Located there is among others Kamiros, "the Pompeii of Greece", and Sianna which by many is thought to be the fairest of all the villages on Rhodes.
Petaludes
Other places that you shouldn't miss on Rhodes are Petaludes, the valley of butterflies, which with its wonderful butterflies in all different colours attract visitors to drown in its beauty. The mountain Profitis Elias where the highest point on all of Rhodes lies and where you on a clear day can reach all the way to Turkey with you eyes. Monte Smith above Rhodes where you can see its impressive ruins, the excavation at Kamiros and the water well of Epta Piges.