Restaurants
In Faliraki, and in general in Greece, you eat rather late. The lunch gets eaten around 2 am and the dinner, you eat when the clock strikes 9 pm, at least you almost never eat dinner before eight. The restaurants are many and they are mixed with cafés and small stores. It can be worth it to book a table in advance if the restaurant is popular, but often, it's okay to just show up when you feel like eating. When it comes to the tip, you leave about ten percent of the check, and in cafés you round the check off.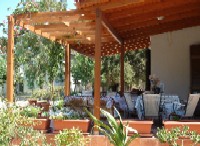 When the Greeks see each other, they do it with lots of food. You always start a meal with different "meze", small dishes, and for main course you eat meat or homemade "Mousakka", a gratin made of vegetables, minced meat, potatoes and sauce. You end all meals with the fruit of the season.
Lindos-Rodos Street
In Faliraki, most of the restaurants lie at the Lindos-Rodos Street. At this street you'll find all kind of food, think about what you like, and it'll be there – from Greek to Indian and Italian. Below you'll find a few restaurants in the city of Faliraki..
Faliraki RAI
a restaurant at Lindos-Rodos Street that serves Indian food.
Golden Wok
For those who just can't get enough of noodles, wok at sweet sour sauce, Chinese, that is.
La Strata
An Italian restaurant which serves pizza as their specialty.
Sarantis
A traditional Greek restaurant that serves traditional Greek food and attracts many visitors.
Piano Bar
A cosy restaurant and bar which serves good food to low prices.